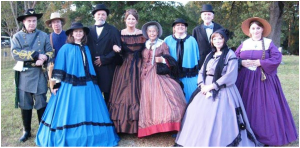 It's not too early to mark your calendars for this year's All Hallow's
Eve Cemetery Walk. This event always proves to be both entertaining and educational. It is scheduled for October 14 -15 in Camden's historic Oakland Cemetery. You are sure to meet some wonderful characters from the past and you will gain insights about Ouachita County's history as you hear personal narratives performed by costumed actors.
---

Stop by the society office at 936 Washington Street, Wednesday - Saturday, 9:00 - 4:00. Our docents will provide a tour of the McCollum-Chidester House Museum and can give you information about the varied ways you can participate in the exciting programs sponsored by the Ouachita County Historical Society. Our docents will provide guided tours and answer questions about the society. You now have the option of paying membership dues over the phone using your credit card. Simply call 870-836-9243 Wednesday - Saturday 9:00 - 4:00 p.m.
---

Ouachita County Historical Society's current initiative is the development of Ft. Lookout as a museum and interpretive center for Civil War events that occurred in Ouachita County in the spring of 1864. Forts Lookout and Southerland, also known as Redoubts A and B, were important position points for defense along the river during the Civil War. For more information about this project, contact the society's office at 870-836-9243 or email ochs2003@sbcglobal.net.

---