Meet Our New Quarterly Editor, Brenda Hutcheson Fickey!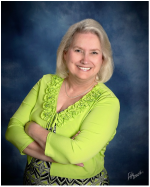 In my adult life, I have lived in historic Marshall, Texas; frontier Alaska (Wasilla, Big Lake, and Anchorage); the once wild western town of Denver, Colorado, in the United States; and in a small village in Spain as a child while Dad served in the Air Force. These were exciting places to call home, but none are any more historic and exciting than where I was born and raised: Camden, Arkansas, in Ouachita County. I guess you could say I have history in my blood. However, my love for history didn't begin in earnest until the eleventh grade at Fairview High School when my history teacher, a wonderful man who came to Fairview from Lafayette High School, made the past real and come alive for me.
---
My fascination with history continues to be a hallmark of my life and work. I incorporate my experiences with history in my writing classes to make what they are learning relevant and real instead of just schoolwork to get a grade. The novels I write for children are historical fiction, mystery, suspense stories loosely based on my family's history with the oil boom days in the Smackover oil fields in Ouachita County during the 1920s. I fill my plots with excitement from the period and familiar places in Ouachita County and people who represent the area accurately. The planning for each new plot begins with stories my grandmother told me, when I was a kid, about those days she lived and experienced. Her primary source information has helped me create stories that entertain and teach kids all over the United States about our region of Arkansas. When I was asked by novelists and publishers why I chose that time period and unfamiliar setting, I proudly explained there is no one else better to tell those stories than someone who knows the area intimately and the people from that period. The risk has paid off, and I am pleased to pass on a portion of history the world seems to have forgotten, even though the boom was a worldwide event.
I have a long legacy in Camden and Ouachita County. Now that I'm back after being away for 34 years, I'm thrilled to be able to make my mark on my state—Arkansas, my city—Camden, my county—Ouachita, my home!
(Brenda Hutcheson Fickey was born in Camden, Arkansas, the daughter of Charles and Martha Hutcheson. She graduated from Fairview High School in 1971 and currently teaches AP English classes at Camden Fairview High. She will begin editing the Quarterly with the spring issue of 2017. Learn more about her life and her books at her website.)
​